What an amazing start to our new cooking group. A big thank you to my fantastic co-host
Natasha
for all her hard work this week.
Thank you to my fellow participants who's talent showed that cooking can be fun, creative, inventive, and inspirational.
Please enjoy these Bacon & Eggs Makeover dishes.
White Truffle Egg Custard, Bacon Dashi, Soft Scrambled Egg, Roasted Pork Belly
by Lazaro,
Lazaro Cooks!
Bacon and Eggs and Toast Becomes a Pasta Dish
by Angela,
Spinach Tiger
Caramelized Fennel, Serrano Ham and Fried Quail Egg Brunch Bruschetta
by Asha,
Fork Spoon Knife
Bacon Pate Toast Stack with Poached Egg Yolk
by Faith,
An Edible Mosaic
5 Star Makeover: "Bacon & Eggs" Rubix Cube
by Natasha,
5 Star Foodie
Bacon Souffle with Maple Bacon Bourbon Sauce
by Jennifer,
The Adventuresome Kitchen
Savory Egg Custard with Mixed Herb Salad and Caramelized Bacon Vinaigrette Recipe
by Debi,
Table Talk
Bacon and Eggs: Under the Tuscan Sun
by Jessica,
Bacon and Soufflé
Beggar's Purses with Bacon and Cheese
by Deana,
LostPastRemembered
Bacon and Egg Maki Sushi
by Tanantha,
I Just Love My Apron
Franco-Cuban Duck Confit Y Tortilla w/Herbes de Provence Meringue
by Bren,
Flanboyant Eats
Pizza with Egg, Bacon, and Goat Cheese
by Kelly,
The Pink Apron
Bacon & Egg Purse Soup: Crepe-Wrapped Bacon Meatballs in a Star Anise and Ginger-Scented Broth
by Trix,
Tasty Trix
An eggs benedict for your heart, really
by Lori Lynn,
Taste With the Eyes
Gingered Frittata with Shiitake "Bacon"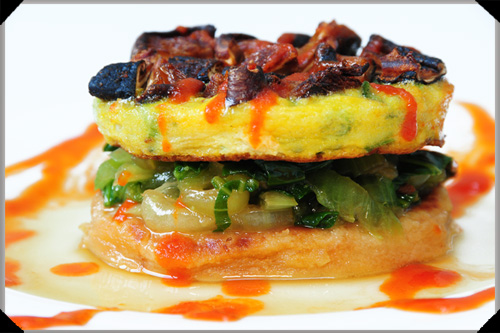 by Aoife,
The Daily Spud
That's it for now...till we exchange a few words again...Peace!