This month with football season in full swing we decided to host a Gourmet Tailgate Party for our October Makeover.
Please check out these fantastic creative party food ideas. I am sure you will find some inspiration for your next dinner party.
***
Cheddar Cheese Ball Appetizer
by Faith,
An Edible Mosaic
Cardone Dip
by Natasha,
5 Star Foodie
Gougères Filled with Whipped Butternut Squash, Dill, & Gruyère Cream
by Trix,
Tasty Trix
Pumpkin, Brie and Bacon Pasta Bake
by Kelly,
The Pink Apron
Lobster Sauce Crab Poutine with Oka Cheese
by Evelyne,
Cheap Ethnic Eatz
Thai Style Salmon Fritters with Siracha Sour Cream
by Tanantha,
I Just Love My Apron
Beer-Braised Sausage
by Marisa,
Cook's Book
Bolognese Sliders, the Five Star Sloppy Joe Makeover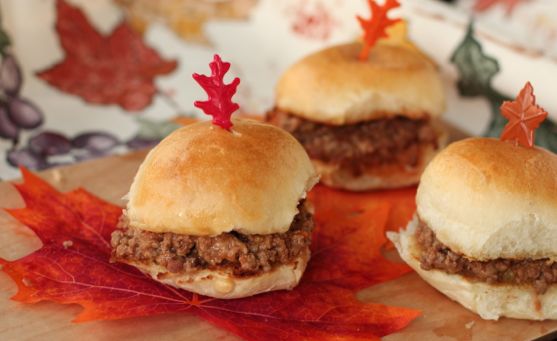 by Angela,
Spinach Tiger
Hazelnut Biscuits with Deviled Ham and The 21 Club's Pomegranate Cider
by Deana,
LostPastRemembered
Scallion Beef with Sushi Rice and White Miso, Hot Chile Oil for Dipping
by Lori Lynn,
Taste With the Eyes
Smoked Chicken Wings with Caramelized Pork Belly & Blue Cheese
by Lazaro,
Lazaro Cooks!
Wonton Cups with Bacon Jam, Shrimp, and Guacamole
by Debi,
Table Talk
A New Grilled Cheese: Cremini-Filled Cheese Brioche
by Jessica,
Bacon and Soufflé
Maya,
Foodiva's Kitchen